DeMONK, MERCITA
708-623-5542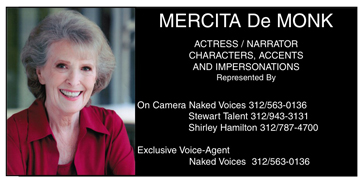 Actress/Narrator, Characters, accents and impersonations a specialty.
Narrator with vast experience in Educational, Medical, Technical and Art.
Also Fashion and in-house presentations and conventions.
Experienced in impersonating famous women both on and off camera.
Also have done numerous impressions of specific types;
newscasters, Vassar grads, fashion commentators, etc.
Accent specialist – British, Italian, French, Swedish, Japanese, Philippine,
Russian, Scotch, Brooklyn, southern to name a few.